DFA Recognition
Drive by salute to health care workers at UCI Medical Center
April 11, 2020
Orange, Calif – More than 150 families participated in a drive by salute to health care workers at UCI Medical Center in Orange Saturday afternoon. The salute was organized by Forever Footprints, a group dedicated to providing support, comfort and resources for families who have suffered a miscarriage or infant loss. The group also donated pizzas for the UCI Health caregivers. UCI Health physicians, nurses, and staff have been working tirelessly to care for the community during the COVID-19 pandemic.
UCI Health is grateful for the support of our friends and neighbors.
---
The event was organized by the co-founder of Forever Footprints Kristyn von Rotz, who suffered a miscarriage and was grateful for the care she received during that time from UCI Health. She would later co-found Forever Footprints to support other mothers who suffer the same loss. See photos of the salute.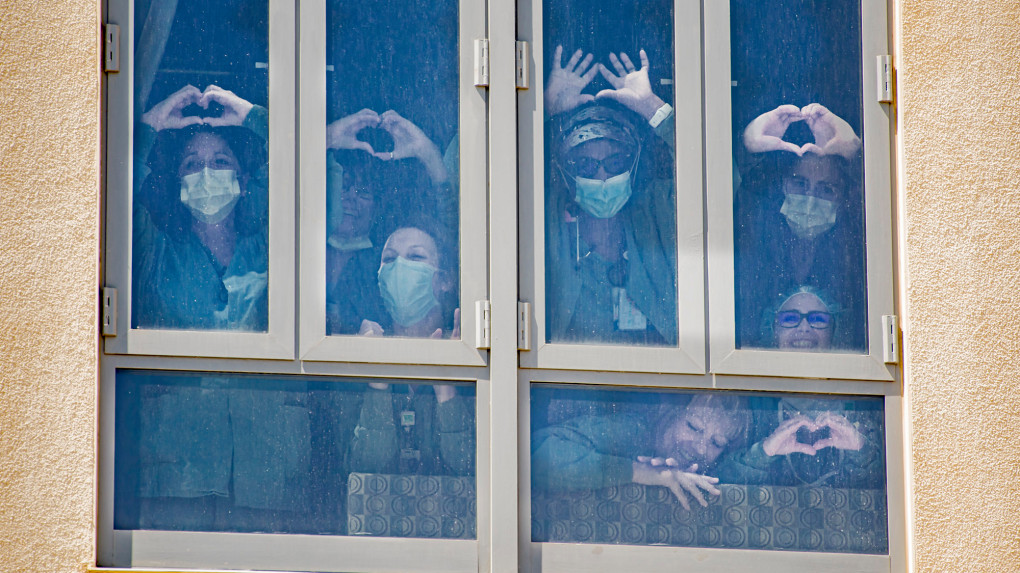 UCI Medical Center workers send love back to Orange County first responders who were holding a drive-by parade to thank them during the coronavirus pandemic in Orange on Tuesday, April 14, 2020. (Photo by Mindy Schauer, Orange County Register/SCNG)
Orange County Register | April 14, 2020
Instead of flowers, floats or confetti, the staff at UCI Medical Center in Orange were feted with the lights and sirens of police and firefighting vehicles, encouraging waves and heartfelt thanks on Tuesday, April 14. Public safety agencies including the California Highway Patrol, the Orange County Sheriff's Department, and police and firefighters from Anaheim and Orange took part in a slow-rolling vehicle parade past an audience of appreciative employees at hospital entrances, pausing outside the emergency room.