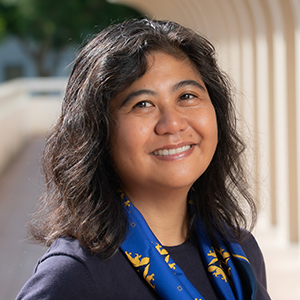 Mary Lou D. Ortiz
Chief Financial Officer
Vice Chancellor, Finance and Administration
Email: marylou.d.ortiz@uci.edu
Mary Lou D. Ortiz joined UCI on July 18, 2022 as chief financial officer and vice chancellor for the Division of Finance and Administration. She manages a large, $3.5 billion operating budget and a $3 billion capital expenditure budget, ensuring responsible allocation of public and private financial resources to meet objectives including the health enterprise (health sciences and medical center).
Mary Lou has broad experience leading administrative and financial operations at public and private research universities, strengthening those operations to best support the needs of each institution's core programs. She most recently served as associate vice president for budget and university budget officer at Pennsylvania State University, serving as a senior member of the university's financial leadership team and responsible for overseeing the University Budget Office and for the development and assessment of the university's budget and resource allocation policies. She implemented the university's annual operating budget and had budgetary responsibility for Penn State's complex $7.7 billion organization with 24 campuses, leading discussions about maintaining affordability for Penn State students while continuing to innovate.
Prior to joining Penn State, Mary Lou served as vice chancellor for finance and administration at Rutgers University-New Brunswick, providing financial and operational leadership to the university's flagship campus and overseeing $1.7 billion in total resources. She is the former director for finance and resource administration of University Services for Princeton University and former director of planning and financial administration at Columbia University's student health services. In addition to her higher education experience, she was the senior director of budget and financial planning at the International Rescue Committee (IRC), a global humanitarian aid, relief and development nongovernmental organization, where she oversaw the annual operating budget for the IRC's 26 overseas offices and affiliates and 32 domestic operations.
Mary Lou earned her Master of Business Administration, Master of Public Administration, and Bachelor of Arts degrees from Columbia University, and is a candidate for the Doctorate in Education in Penn State's Higher Education program.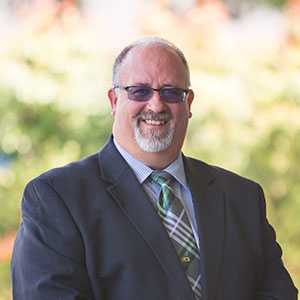 Richard L. Coulon
Associate Vice Chancellor
Division of Finance and Administration
Email: rcoulon@uci.edu
Richard Coulon is the associate vice chancellor for the Division of Finance and Administration (DFA) most recently serving as interim CFO & vice chancellor for DFA. He has over 21 years of experience at UCI overseeing a portfolio of Design and Construction Services, Capital Planning and Space Management, Campus Physical and Environmental Planning, Real Estate Services, Risk Management, and UCPath. He served as UCI's UCPath committee chair which led to the successful implementation—the largest administrative system implementation in UC's history. He also served as UCI's director of Materiel and Risk Management which included central purchasing, equipment management, business contracts, interior design, and risk management. Rick is a skilled negotiator and is experienced in procurement policy, contract law, and complex agreements. He is a certified mediator, serves on numerous committees, and is the director of UCI's Emergency Operations Center.
Rick received his B.S. degree from California State University, Long Beach and later earned the professional designation of Associate in Risk Management (ARM) from the Insurance Institute of America. Rick graduated from the UC Coro Systemwide Leadership Collaborative in 2018.
Mary Clark
Chief of Staff
Office of the CFO & Vice Chancellor
Email: mary.clark@uci.edu
Mary Clark plays a critical support role in strategic planning and provides administrative leadership on Division of Finance and Administration and/or UCI initiatives, including the design and management of projects and programs that are integral to UCI's financial health, academic excellence, and productivity. She has nearly 25 years of experience in higher education at universities in the United States and Europe. Mary served as the chief of operations for the Division of Administration & Finance at California State University, Fullerton; eight years at UCI's Paul Merage School of Business as director and then assistant dean; and prior to her tenure at UCI, Mary was at Washington University in St. Louis, IESE Business School in Barcelona, Spain, and Chapman University. Mary holds an executive MBA degree from Washington University in St. Louis and a Bachelor of Arts in Spanish with a minor in business administration from California State University, Fullerton.